Q: Should I be concerned about a chlorine shortage?
A: This Spring, media reports about a chlorine "shortage" have created concern among pool owners about their ability to properly maintain and operate their pools. According to these reports some chlorine tablets (tabs), which – due to a combination of events that include a surge in demand for pools in 2020 and a chemical plant fire – are scarcer than in previous years. However, we are not aware of any substantial disruptions in the supply of chlorine in liquid, powder, and other tablet forms. Read more here. 
Q: What types of inground pools are available to me?
A: The three primary types of pool construction are shotcrete/concrete, fiberglass and vinyl-lined. Design flexibility, construction duration, maintenance and longevity are the notable distinctions between the three types. Shotcrete pools, sometimes called concrete pools, are constructed by hand in virtually unlimited sizes and shapes and offer the greatest creative opportunities. Vinyl lined pools can be constructed in various shapes and sizes although they are more limited than shotcrete. Fiberglass pools are available in factory molded shapes. While numerous shapes are available, customized options are limited.
Construction duration for a shotcrete pool is usually about 4-6 weeks longer than the installation time for a fiberglass or vinyl lined pool. Both vinyl-lined and fiberglass omit the rebar reinforcement and shotcrete phases of construction.
Q: How can I choose the best pool builder in my area?
A: Find a Professional locator to be connected to builders in your area. We also suggest asking friends and colleagues who have pools and take the time to go visit. Look for builders who are certified professionals that can provide you with strong recommendations.
Q: If I want a pool by summer 2021, when should I begin inquiring with local builders?
A: The demand for inground pools is higher than ever before. Timing will vary but be aware that it could take six to 12 months to have your pool installed. Reach out to a professional in your area for more information and to get your name on a waiting list today.
Q: Does my location impact the time it will take to have a pool installed in my backyard?
A: If you live in an area that experiences freezing temperatures in the winter months, the building season is shorter and your project may take longer to complete as a result. It is important to contact your builder as soon as possible to plan around any weather events.
Q: I reached out to a local landscaper in my area and they can install a pool at a fraction of the cost in half the time your members are estimating for me. Why is that?
A: As the popularity of backyard swimming pools increases, more and more companies are trying to cash in on this uptick of business. However, we at the Pool & Hot Tub Alliance caution potential buyers that while the price and timeline from some of these new or multi-faceted companies seem ideal, they are not entirely qualified to install a safe and top-quality pool. Take a look at our Pool Builder Checklist for questions to ask when vetting your pool builders.
Q: After my pool is installed, will the builder help me maintain the pool or will I need to find a different company?
A: Often, the builders will assist with maintenance of your pool, but if you are referred to another company, be sure to utilize our Maintenance Checklist for question to ask when vetting your maintenance company.
Q: How do I find a hot tub seller or store in my area?
A: Find a Professional locator to be connected to hot tub professionals in your area.
Q: Can I customize my hot tub selection?
A: Yes! Your PHTA professional will help you explore the many options available from buying to selecting the most appropriate placement for your hot tub.
Q: Is demand high for hot tubs right now? If yes, how long will it take for me to have mine shipped and set up at my home?
A: With many people opting to stay home for vacations, or "staycations" this year, demand is higher and you can expect some delays in receiving your hot tub. Speak with your PHTA dealer for more specific timing in your area.
Q: Can I test a hot tub before I purchase it?
A: Typically, a seller will be able to set you up with a "pre-soak" in which you can test a tub before you make your decision. Check with your local PHTA dealer to see what their current rules and guidelines are for this offer.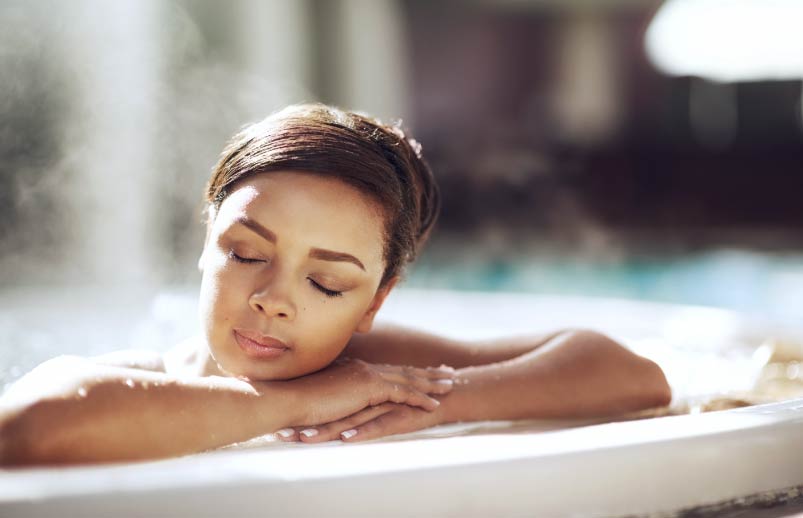 The buoyancy of water reduces the weight-bearing stresses on the lower limbs and promotes more pain-free and effective exercise of the muscles and joints than would otherwise be possible.
The warmth and pressure of the water may further assist with pain relief, swelling reduction, and ease of movement.
In a study conducted by the New England Journal of Medicine, hot tub therapy helped a group of type 2 diabetics reduce their blood sugars, lose weight and improve sleep patterns.
Q: How much should I budget for pool installation?
A: Please refer to our Find a Professional locator and inquire with local pool installers in your area as rates are different across the country.
Q: How much should I budget for maintenance of my pool?
A: Much like the cost of pool installations, maintenance costs vary based on geography and how long the pool is open throughout the year.
Q: Why does working with a PHTA professional save me money?
A: Working with a PHTA professional is a great way to protect your investment and enjoy your pool with confidence.
Q: How much should I budget to purchase and maintain a hot tub?
A: With hundreds of styles and options to choose from, there's a hot tub for every budget. Hot tubs are more cost-effective – in time and money – than ever before.  Maintenance is cheaper and less time-consuming than changing the oil in your car.